Dr.

D.C.

Chiropractor

Dr. Dustin Rising, a licensed chiropractor, founded Gallatin Valley Chiropractic in Bozeman, Montana in 2010. He attended the College of Chiropractic at Northwestern Health Sciences University in Minneapolis. He graduated as a Doctor of Chiropractic with an emphasis in both sports injuries and extremity adjusting. Dr. Dustin's continuing education focuses on sports injuries and automotive accidents. He holds additional certification in Dry Needling.

Before chiropractic school, Dr. Dustin attended North Dakota State University in Fargo where he graduated Magna Cum Laude with a Bachelor of Science degree in Zoology. While in school, he studied abroad in New Zealand. With a love for exploration, travel, and culture, Dustin made time to rock climb, backpack, fly fish, and explore the Southern Alps, Australia, and Fiji.

During his free time, Dr. Dustin enjoys playing hockey, snowmobiling, hunting, fishing, wakesurfing, hiking, and mostly spending time with his wife and 3 boys!

Dr. Dustin is a contributor to SheKnows.com, one of the top 10 most-visited websites for women. He writes about chiropractic care and wellness.

Dr. Dustin is also a member and sits on the board for the Montana Chiropractic Association where he enjoys trying to grow the chiropractic profession in the State of Montana.

Dr.

D.C.

Chiropractor

Dr. Rachel Rising, a licensed chiropractor, also attended the College of Chiropractic at Northwestern Health Sciences University. A Doctor of Chiropractic, Dr. Rachel specializes in Pediatric Chiropractic as well as Prenatal and Pregnancy adjusting. Dr. Rachel joined Gallatin Valley Chiropractic in March of 2013.

Dr. Rachel earned her Webster Technique Certification from the International Chiropractic Pediatric Association. This chiropractic technique helps to correct sacral misalignment, balance pelvic muscles and ligaments which in turn removes torsion to the woman's uterus, its resulting constraint to the baby, and allows the baby to get into the best possible position for birth. She constantly expands her expertise with continuing education and seminars on chiropractic care for mothers, babies, and children.

Dr. Rachel is also the owner of Baby Logic, an online baby and pregnancy resource website based out of Bozeman.

The Risings are members of the Montana Chiropractic Association and the Bozeman Area Chamber of Commerce.

Dr.

DC, CSCS

Chiropractor

Dr. Clay Winters is a licensed chiropractor from Conrad, Montana. Dr. Clay moved to Bozeman with his wife Sonia after he obtained his chiropractic doctorate degree from Northwestern Health Sciences University located in Minneapolis Minnesota, with a focus in sports injury and family care.

Clay holds certifications in ART (Active Release Technique), Dry Needling, CSCS (Certified Strength and Conditioning Specialist), SFMA (Selective Functional Movement Assessment), as well as Rock Tape Certified for kinesiology taping, FAKTR (Functional and Kinetic Treatment with Rehab) and McKenzie Technique for the lumbar spine.

Prior to chiropractic school, Clay attended Montana State University in Bozeman at which he graduated with his bachelors degree in Health and Human Performance, Exercise Science. In his free time Clay loves spending time with friends and family as well as being outdoors hiking, hunting/fishing and playing sports.

What led Clay to be interested in chiropractic care was his passion for helping people. Clay believes that chiropractic care is an amazing way to improve the way the body can perform. It can help anyone achieve their goals, whether it's improving athletic performance or simply living pain free.

Office Manager

Courtney was born and raised in Kalispell, MT, with two younger siblings, and many animals. She spent her summers taking advantage of Glacier National Park, and the many surrounding lakes. Courtney's greatest passion is Agriculture and she spent 10 years in 4-H and FFA competing in Livestock Judging, Agronomy, and Livestock Showing. Not willing to leave the Agriculture community, she came to Bozeman in 2016 in pursuit of an Agriculture Education degree, specializing in 4-H Extension, and graduated in November of 2021.

In her free time, Courtney spends time with family and friends, hanging out at the lake any chance she gets, coaching CrossFit Kids and playing a never ending game of fetch with her 2 dogs. She recently took up a few new hobbies, including: woodworking, sewing, hockey and snowboarding!

We Believe

We believe in chiropractic care on your terms.

At Gallatin Valley Chiropractic, we believe that you should be in control of your healthcare because you know your body better than anyone else. This means you will never be pressured into unnecessary or excessive treatment plans. Through careful evaluation of your condition and individual needs, we present the best options so you can decide on a course of action.

We believe that pain should never inhibit your lifestyle.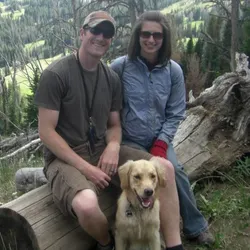 Dr. Dustin and Dr. Rachel are classic Bozeman outdoor enthusiasts. They know first-hand the importance of stopping pain from interrupting the things you love. For Dustin, that's skiing and snowboarding (that's right – both!) around Big Sky where he loves to play in the backcountry on powdery winter days.
Both Docs are avid hikers, spending time in the mountains near Bozeman and their favorite peaks in the Beartooth Mountains and Glacier National Park. And like many in the valley, fly fishing is a hobby. With the Gallatin River in the backyard, it's hard not to love teasing the trout.
The Rising family loves everything outdoors—hiking, boating, fly fishing, skiing, snowmobiling, hunting, camping and rafting. Dr. Dustin and Dr. Rachel are sticklers for properly aligning their spines before and after every adventure. Chiropractic care ensures they stay healthy and pain free. They can do the same for you.

We believe a key to a happy, healthy life is family.

The health and welfare of family members significantly influences our individual health. The Risings continue to be greatly influenced by their close-knit families. Dr. Rachel was born and raised in Ontario, Canada (eh...?) by her loving parents, Michel and Denise Lacroix, she's also very close to her brothers, Justin and Nick.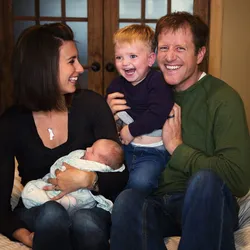 Brought up by his wonderful and supporting parents, Bob and Deb Rising, Dr. Dustin was born and raised in Dickinson, North Dakota. Like Rachel, he has two fantastic brothers; the older brother, Brent, is a dentist in Omaha and the younger brother, Jordan, owns a helicopter drone company in Montana. The cutest members of the Gallatin Valley Chiropractic team are Brecken, Tavin, and Croix, the Rising's three boys. Always smiling, Brecken is already leading the outdoor adventures with Mom and Dad. Tavin is learning quickly in the footsteps of his older brother and soon enough will be an outdoor enthusiast as well! Croix is loving both big brothers and enjoying the chaos of the other two! Of course, no Bozeman family is complete without a happy golden retriever named Koda.

At Gallatin Valley Chiropractic, we value family and have designed our practice to help care for your family too. In addition to general chiropractic care, we offer prenatal and pediatric chiropractic. Let our family take care of yours, no matter the stage of life.

Visit Dr. Dustin Rising, Dr. Rachel Rising, or Dr. Clay Winters at Gallatin Valley Chiropractic of Bozeman and see what a difference chiropractic care can make in your life!
---
-Gallatin Valley Chiropractic-
Call us at: 406-551-2177
Schedule Online Here!
https://appointments.mychirotouch.com/?clinic=GVCL0001